Assess Your Risk When Buying in a Hurricane Zone
This Post was adapted from Bankrate.com
The Atlantic hurricane season is comes around each year and it's more crucial than ever to make sure you're informed and protected when you're looking for a home in a hurricane zone.
Hurricane season began June 1 and ends November 30. As of 2016, the population of the 185 coastline counties from Maine to Texas was 59.6 million. And there are 6.9 million homes along the Gulf and Atlantic coasts at risk for hurricane damage this year — and Florida, Louisiana and Texas claim the most properties in jeopardy, according to the CoreLogic 2018 Storm Surge Report.
Last year was the costliest on record for homes and properties, with 219 weather disasters that caused $1.5 trillion in damages, according to the National Centers for Environmental Information. Sixteen weather events exceeded $1 billion in damages.
Regardless of whether a hurricane actually hits your brand new real estate, you'll need to pay for hurricane insurance. Rates run the gamut, depending on your state: In 2016, Louisiana, Texas, and Florida had the highest average premiums at just under $2,000 per year, while Oregon had the lowest, at $659, according to the Insurance Information Institute (III).
Location is an important factor
Your premiums and risk level are tied to where you decide to buy a home. Flood zones are areas mapped by FEMA for use in the National Flood Insurance Program. Each flood zone designation, represented by a letter or letters, tells homeowners exactly what the risk is for flooding at their property over a period of years, regardless of the cause. In other words, Flood Zones A & V are much more risky than Zone X. In the same way, Hurricane Evacuation Zone A has very different implications than Zone E or F.
"Just because a home has not flooded previously doesn't mean it won't flood tomorrow," cautions Dr. Luis Torres, research economist of The Real Estate Center at Texas A&M University. "Consider whether you are downstream from a dam or reservoir. Following Hurricane Harvey, many Houston homes were damaged by the release of water, not by the actual hurricane."
Carefully consider your location and know that flood maps evolve over time. An area may currently have a low risk of flooding, but that could slowly (or quickly) change.
Determine what hurricane or flood zone the home is located in
Flood zones and evacuation zones are determined by different methods and have different purposes. A home may be located in a non-evacuation zone but still be located in a flood zone because of a nearby stream or pond. You must check both zones.
"Insurance companies are concerned with flood zone rating, not evacuation zones. High-risk zones start with a letter A or V, moderate risk zones start with an X and are usually followed by a number. For example, X500 means that statistically, the area has a 0.2 percent of flooding at any time, a low risk zone along with Zone X, which is considered outside of any flood hazard zone. Zones A and V are considered to have a 1% chance of happening at any time," says J. Keith Maxwell, licensed Engineer and Land Surveyor at Pro17 Engineering.
Download the FEMA app and determine which hurricane evacuation zone your home is in. This app can also be used to determine whether flood insurance is needed. You can also learn more about your community's warning system.
By law, all homes in high-risk zones that carry a mortgage must be covered by flood insurance because flood damage is not covered by your homeowners insurance policy. You'll need a separate flood insurance policy that will cover rising water from natural disasters.
Evacuation zones, on the other hand, are based on hurricane storm surge zones determined by the National Hurricane Center using ground elevation and the area's vulnerability to storm surge from a hurricane. The evacuation zones are marked from A through E, plus non-evacuation zones.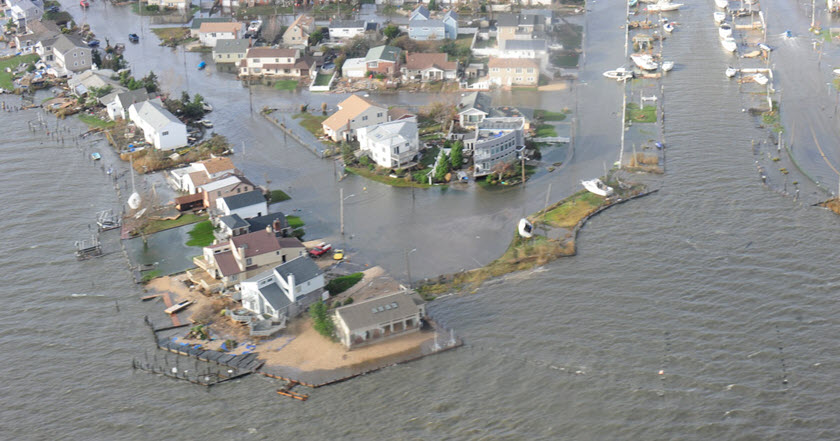 Choosing to buy a couple miles inland can save you a lot of money, though if your home is located in a high flood-risk area, it can put your home at a higher risk during hurricanes. Contrary to popular belief, you don't need to be near the water for it to be a flood hazard. Tick through the following bullets if you're scouting for a home in a hurricane/flood zone:
Know the flood zone it's in.
Know year the home was built.
Know how much flood insurance will cost you.
Determine whether you can take measures to prevent flood damage to your home.
Understand how much damages could cost (you can find this on FEMA's website).
Do your research
Each time you tour a home you might want to buy, ask questions about past flood and storm damage and ask if the home you're considering requires an elevation certificate (EC). Your insurance agent will need an elevation certificate (EC) to determine your flood insurance premium. An EC determines if the home is in compliance with the floodplain management ordinance. The premium could be so high that it could mean particular homes could be deal-breakers. Components of your research should include:
Find out how old each home is. Older homes may require additional repairs and updating to make sure they can withstand hurricanes and floods.
Learn whether each home is up to date with current building codes and hurricane proof.
Consider elevation, location and possible risk from nearby dams, levees and water sources.
Check drains to be sure they're working properly on the home.
Check the garage door; forceful winds can create pressure and blow off the roof of the home.
Verify that the roof is in good condition, otherwise a blown-off roof could leave your walls without a way to be braced.
Be sure a home has hurricane-proof windows and doors that are wind-resistant and can withstand flying debris.
Be aware of unsecured outdoor items that can fly away if not fastened down.
Flood risk disclosure laws
Don't completely rely on the property owner or real estate agent to give you all the facts — get an inspection or call an Engineer or Surveyor and ask them to consult the Flood Maps for you.
In fact, some states don't require property owners to warn potential buyers about past flooding. You can check out a flood disclosure map from the Natural Resources Defense Council (NRDC). Check out potential home addresses to find out what zone the homes you're shopping for are located. Depending on the zone, you may need specific flood insurance.
Make sure you and your home are protected
What's included and not included? Your insurance premium will depend on your home's risk level and the cost also varies as well. Don't forget that flood insurance policies impose a 30-day waiting period before coverage takes effect. Unfortunately, insurers won't adjust your coverage once a storm begins to brew.
Homeowners
Homeowners insurance can help repair or replace your home and belongings if they are damaged by fire or theft, if you accidentally damage another person's property or if a visitor is injured while at your home. You may want to choose additional protections to make sure your home and belongings are completely covered. Earthquake and flood insurance are two examples of perils not covered by homeowners insurance, though hurricane insurance is typically included with homeowners insurance, depending on where you live.
Flood
Flood damage is typically not covered by homeowners insurance. You may be able to buy a separate flood policy through the federal government's National Flood Insurance Program (NFIP) or through a private insurer. Flood insurance will have building property coverage and personal contents coverage. However, there are some things that aren't covered, including moisture damage that you could have prevented, as well as outdoor property and cars, for example.
Check with an insurance agent to determine how much it'll cost and what type of coverage you can get.
Wind Insurance
"There are a number of wind-mitigating features like hurricane clips that secure the roof better than older methods and reinforced gables. Before you purchase, get a wind mitigation inspection to find out if the property has any features that can save you on your insurance and reduce your risk of damage," says Vosburgh.
Wind is typically covered by standard homeowners insurance policies, but some policies partially or completely exclude wind-related damage. Read your home insurance policy or contact your agent to learn how you'll be affected. Cost of coverage will vary depending on your state, the types of damage, the limitations your policy may have in place and how much coverage you purchase.
How to reduce your insurance premium
Remember that it's a good idea to be insured for at least 80 percent of the cost of rebuilding, and there are several tips and tricks you can employ to reduce your homeowners or flood insurance premium.
Raise the first floor or lowest interior floor of your home above the base flood elevation (BFE) to save 60% on insurance premiums, according to FloodSmart.
Basement infill can be effective at reducing damage to building elements and contents located below the BFE. The higher the reference level of the lowest floor, the more significant the premium rate decrease will be, according to FEMA.
Abandoning the lowest floor of a building, if possible, can reduce damage to building elements and contents located below the BFE. Again, the higher the reference level of the lowest floor, the more significant the premium rate decrease will be, according to FEMA.
You can install openings in the foundation and enclosure walls located below the BFE which can more easily allow floodwaters to enter and leave. Doing this can increase the elevation at which the lowest floor is rated can lower insurance premiums.
Elevate all building utility systems and equipment (furnaces, septic tanks, electric and gas meters). Doing so may make you eligible for discounts through the NFIP.
Have you confirmed that you're not required to get flood insurance but your prospective home is in a hurricane zone? You should still get flood insurance. After all, 25 percent of all flood insurance claims come from low- or moderate-risk areas. Furthermore, if you live in a hurricane/flood prone area and don't get insurance, you won't qualify for federal aid if you find yourself in the unfortunate position to need it.
Bottom line
Hurricane season is among us, and if you're considering a home purchase in a hurricane zone, one of the most important things you can do is contact an insurance agent and purchase hurricane insurance. Rates can vary, depending on the state where you plan to buy insurance. Determine how much your premium will be for each area you're considering and check out the different zones that your future home may be in: hurricane, flood and evacuation zones.
Determine whether you need flood and wind insurance and decide whether you need to go to extra measures to protect your home further.
Have you called around to a couple of insurance companies and decided that the homes you're considering are just too expensive because of insurance?
"If you look for homes farther inland that have been properly mitigated, the premiums will still be higher than you would pay in another state where national insurance products are readily available, but they will be considerably lower than those for a home that is close to the water without updates," says Sharon Headlee, Southeast Director of Operations of CBIZ Inc.
Call a Frisco Civil Engineer at

(469) 294-8860

to discuss your flood zone and/or hurricane zone.